On Saturday, Mindy, Rachel, Talos and I, had fun joining thousands of North Carolinians checking out the Greater Greensboro Builder Association's 2007 Parade of Homes. We visited many impressive houses during the day, but the jewel of the parade was the 8600 sq. ft. property from R&K who's listing price was $1.5 million. Houses in this range are always impressive, but this one stood out from all others in recent memory.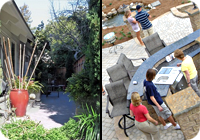 Obviously $1.5 mil. for a home is much more than 95% of us can afford. The house at Toscana Trace featured three full kitchens, a basement "playground" including a movie quality home theater, home gym, full bar, billiard room, wine cellar and a patio that was both huge and beautiful. Hundreds of people were filing in and out of the house admiring every aspect of it. We heard "ooohs" and "aaahhs" the entire time and left in a state of amazement. $1.5 million dollars evidently gets you a heckva lot of very cool house these days. That is unless you live someplace like, oh say, California.
I had been posting some picts of the house on Twitter Saturday night and friend Arlo Rose responded that the price tag of $1.5 mil. barely gets you a foot in the door in California. I knew prices there were high from Craig, who lives in Laguna Beach. But after a bit of research, I really wasn't prepared to learn just how much the people of California pay just for the privilege of living on the west coast.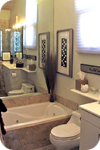 This 1040 sq. ft. home in sunny Palo Alto that Arlo sent me lists for almost the exact same price at the 8600 sq. ft. mansion in Summerfield. Yes, you read that right, this 2 bedroom home is only 1040 square feet. Its kitchen is about the same size as the Toscana home's screened-in porch. If you'd like to see what passes for a "Patio" in California, just click here. Step out the back door, take 12 paces and you're nose to nose with your neighbor's fence. Not exactly the sprawling back yard one had hoped for. Click the image to the left to get a detailed view of the house's "master bath" where the toilet is evidently 3 inches from the jetted tub.
People who live in California will tell you they wouldn't trade it for the world, but I think all that sunshine is starting to go to their head. How else do you explain people wanting to live where wild fires and mud slides happen at the drop of a hat? Who cares about the high cost of living when you've got earthquakes to worry about? Sure NC gets the occasional hurricane every now and then, but the Triad itself is far enough from the coast not to have to lose any sleep. North Carolina may not be nearly as glamorous as sunny CA, but our beaches are just as pretty, we've got wonderful mountains and friendly people. I might just be a crazy "hick", but if I actually had $1.5 mil. burning a hole in my pocket, I'd rather have a house like the one on Toscana Trace. Maybe that's just me.